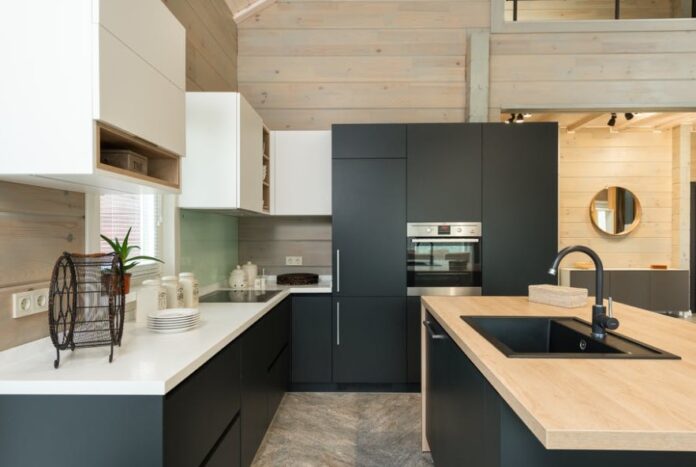 You're getting tired of your outdated kitchen. It's time to give it a facelift, but you aren't sure where to start.
Upgrading your kitchen is a big deal. It's not something you want to do on a whim.
If you make changes to your kitchen, you want to ensure they are permanent changes you are happy with in the long run. Planning your kitchen upgrade ideas should start by writing a list of things you want and need in your new kitchen.
When you have your list ready, continue reading for additional inspiration.
1. No Upper Cabinets
In 2023, kitchen upgrades will add a unique touch of style to your kitchen. You can create a beautiful, open kitchen remodel design without upper cabinets.
Consider mounting your microwave and range hood on the walls. This will provide extra counter space and create a relaxed, airy atmosphere.
You could also add open shelving and display your favorite kitchen items or create a coffee or tea cart for a one-of-a-kind look. Consider adding a backsplash or mural to add a special touch to your kitchen.
Opt for high-end appliances to create a polished and sophisticated feel. With this upgrade, your kitchen will have a modern, chic look with no upper cabinets.
2. High Contrast
High contrast aesthetically creates a modern, bold, and eye-catching design. Pairing bold colors, like navy blue and white, is a great way to create high contrast in the kitchen. This will give off a sense of elegance and sophistication.
Playing with different textures and patterns, such as shiny marble and matte wood, will provide an exciting contrast between other design elements.
To help illuminate the kitchen, you can introduce additional lighting fixtures to help the colors and textures pop even more. Installing spotlighting and recessed lighting will provide a soft, ambient atmosphere perfect for entertaining. A chandelier over your island will set the tone for a formal dining area.
3. Double Islands
Popular kitchen trends this decade all seem to revolve around installing multiple islands! As kitchen remodeling services continue to expand, homeowners now have the option to add a double island to their kitchen.
Perhaps you are considering a new kitchen for the next year and want something special for your home renovation. The double island could be a great design option for you. Not only does a double island give you additional counter space, but it also adds dimension to the home's open-concept design.
The second island provides additional storage and seating for you and your family. With the proper design and layout, double islands could be an efficient and attractive upgrade to any kitchen.
Here Are Our Top 3 Kitchen Upgrade Ideas
These kitchen upgrade ideas greatly enhance your home's value and add a modern aesthetic. With many stylish ideas, you can easily find a look that appeals to your style and budget.
Try looking into countertop lights, integrated appliances, and intelligent kitchen integration for a contemporary look. So start your kitchen upgrade planning today!
To explore more informative articles, visit our main blog.