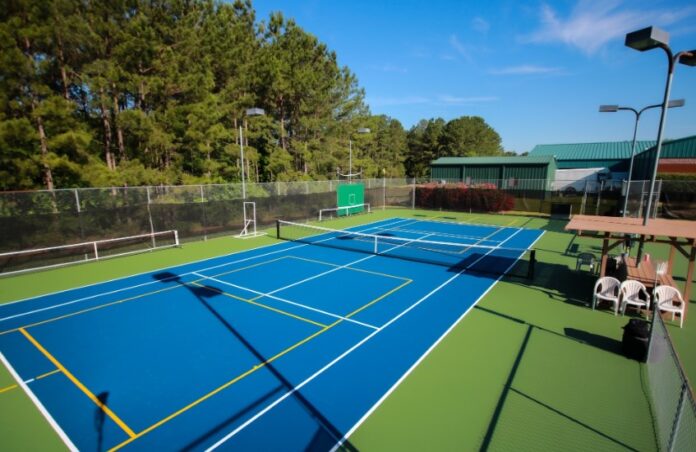 If you enjoy playing tennis, owning a tennis court can be a lot of fun. However, there's more to it than just having a place to play.
Careful tennis court maintenance is necessary to keep the surface in good shape and the court usable for as long as possible. A poorly maintained tennis court can lead to higher repair costs as well as unnecessary wear and tear on the court and your court equipment.
Establish a regular maintenance and upkeep plan that you can follow each spring and each fall. Here are a few pointers on what you should include in your program.
1. Tennis Court Maintenance: Proper Surface Cleaning
Here are a few tips to ensure your court surfaces are properly cleaned. Start by sweeping the tennis court turf with a dry broom or brush to remove any loose debris.
Afterward, clean the court surface with a pressure washer and a mild detergent to eliminate any dirt, debris, algae, and moss. After the surface is dry, use a broom and a leaf blower to remove all persistent debris and sweep out any remaining dust and dirt.
Finally, make sure to clean out any ball marks on the court surface to ensure its evenness. Follow these steps, and your court will remain clean and efficient for years to come!
2. Scheduling Periodic Inspections
These inspections should take place at least once a year, and more often if you play regularly. During the inspection, make sure to examine all elements on the court, such as the nets, the surface, and the court lines.
Tennis court personnel should check for any signs of damage or wear and tear and make any necessary repairs or adjustments. It's also a good idea to give the court a deep cleaning, which should involve power washing, sweeping, painting any worn surfaces, and filling any indentations.
3. Maintaining Proper Moisture Levels
Proper moisture levels are extremely important for professional courts and recreational courts alike. Make sure to brew water for the court often and no more than necessary. Also, use a hard court roller to effectively absorb small amounts of moisture.
Always be aware of the weather conditions and make any necessary adjustments to moisture levels. The last step is to invest in a quality irrigation system to help reduce water consumption.
4. Ensuring Proper Fencing, Netting, and Court Markings
Fence netting should be regularly checked for damage and replaced if needed. Court markings should be checked for fading or uncomplimentary lines.
Setting up windscreen barriers, clearing debris from the court, and regular cleaning are also important components of tennis court area maintenance. With consistent and conscientious maintenance, a tennis court can provide a safe and enjoyable recreation experience for a long time to come.
Give Your Court the Care It Deserves
Tennis court maintenance can be a lot of work, but by following these tips your court will stay in top shape for many years to come. Take a look at best practices to maximize the durability of your court, such as regularly raking and inspecting the court's surfaces.
Remember, prevention is key for efficient court maintenance! Give your court the care it deserves and reap the benefits.
If you find this article helpful, check out more of our blogs!