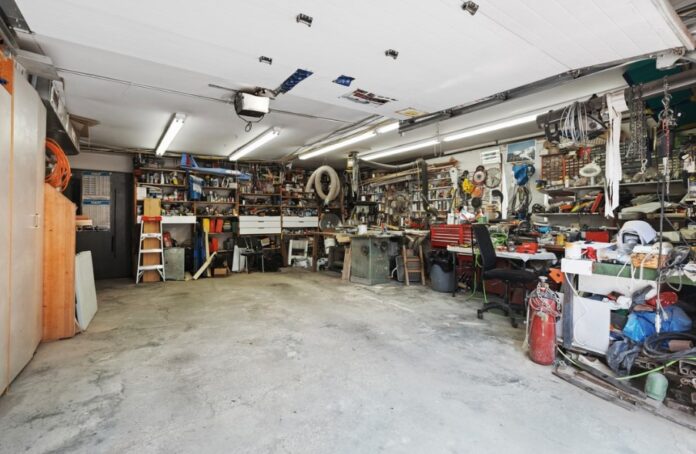 Even if you have a bare minimum garage, you can reimagine it in a fresh new way. This can help you better store your stuff — and even show it off if you get creative. Your garage is a great room to have fresh and fit your lifestyle better.
But if you have an unused, empty garage or a run-down garage, then this is the guide for you. You can transform a garage into a space that you and your family will love using.
Below are creative, fun garage renovation ideas to help you get started and to spark your imagination.
1. Create a Home Gym
Creating a home gym in your garage can be a great way to have your workout oasis. You can transform your garage into a gym you'll love with clever design.
Maximize the space by installing a wall-mounted shelving unit to store your weights, yoga mats, exercise balls, and other equipment. Plus, you can invest in multi-functional exercise equipment like a pull-up bar or punching bag. You can also take the gym up a level by installing rubber flooring to protect your garage from the wear and tear of a busy gym.
2. Make It a Home Office
This is an ideal choice for those with a small business or needs a concentration area with no distractions. To make it comfortable, fill the area with the necessary work furniture, including a comfortable desk and chair. Add pillows and rugs for extra comfort and relaxation.
Colorful wall art can improve the ambiance. Incorporate whiteboards, storage shelves, and bookcases to store office supplies and paperwork. Depending on the size of the area, you can even add a mini-fridge and coffee maker.
Lastly, add a recliner to the corner and work with your feet up while taking breaks. Your home office will be functional and comfortable with the right furniture and decor.
3. Design a Workshop
Workshops are an excellent way to have a fun and effective home improvement project. With some ingenuity, you can turn a garage into a great-looking and functional workshop.
One idea is to use bright colors and fresh coats of paint to brighten the walls and the room. You can add lighting fixtures and wall titles to organize space further and provide better visibility. Other creative ideas include organizing shelves and drawers that can be used for tools and supplies.
Additionally, you can add peg boards, wall art, and other decorative touches that turn a dull and neglected space into a fun and exciting place. With workshop accessories like magnetic holders, tool benches, and drawers, you can design the perfect environment in which to work.
4. Transform Into a Game Room
If you love gaming, you should consider transforming your garage into a game room. Not only will your family have a great place to enjoy hours of fun and competition, but it's also a great way to boost your home's value.
Start by painting the walls, ceiling, and floor and adding comfy seating appropriate for the room's theme. You'll want plenty of outlets for plugging in your gaming systems and TVs. You could also consider adding characters to the room by hanging posters relevant to your favorite games or other gaming-related artwork.
Remember a few awesome decor items, such as gaming-themed pillows and rugs. Finally, stock your garage with a few gaming consoles, games, and some fun snacks, and you've got an epic game room right in your own home.
5. Turn Into a Bar
Creating your bar in the garage for entertaining friends and family is a great DIY project. You can get creative and have a lot of fun with it. Make sure to measure your garage before you begin, so you can estimate the number of materials you will need.
Start by choosing a corner to dedicate to your bar and clearing it out. Install wall shelves, a countertop, and stools, and finish off with a stylish backsplash and LED lights. Add a mini-fridge so you can keep drinks chilled and handy. If you have the space, add a dart board or mini pool table for a complete entertainment experience.
Finally, finish the space with some decor items that show your personality. This is a fun and doable project, with a little bit of imagination and elbow grease.
6. Convert Into a Home Theater
This can be done by removing furniture you don't need and adding comfortable seating, such as recliners, couches, and bean bag chairs. Utilize some kinetic foam soundproofing to ensure sound doesn't leak in and out of the space. Add a projector and screen to the wall with a powerful speaker system.
Install track lighting to help organize the room and some stairs or a ramp for easy access. You can also paint the walls for even more of an impact. Don't forget to update your garage floors using polyaspartic garage floor coating for long-lasting and scratch-free floorings.
With a few simple changes, your garage can become an enjoyable home theater where friends and family can enjoy watching movies.
7. Make It a Guest Suite
Convert your garage into a comfortable and inviting place for visitors to stay. Spruce up the space with new paint, fresh flooring, and even a special lighting element. Incorporate a small kitchenette or mini fridge to prepare meals or store snacks.
Furnish the suite with a cozy resting place, perhaps an air mattress or futon. Add a bathroom if feasible, and include a closet or wardrobe for them to hang their clothes. Don't forget a few homey touches like wall hangings, plants, or framed artwork. Invite your guests to stay awhile in your luxurious garage makeover!
Renovation Ideas For Your Garage
Garage renovations can be a fun and creative way to spruce up your home. Whether you are looking to add a more functional and organized space or just want to make your garage a more enjoyable area, there are many renovation ideas to choose from.
With the right design plan and materials, your garage can easily become a space you'll love! Why not get started and try some of your favorite ideas today?
Looking for more ideas on home renovations? Check out the rest of our blog today for more inspiration!