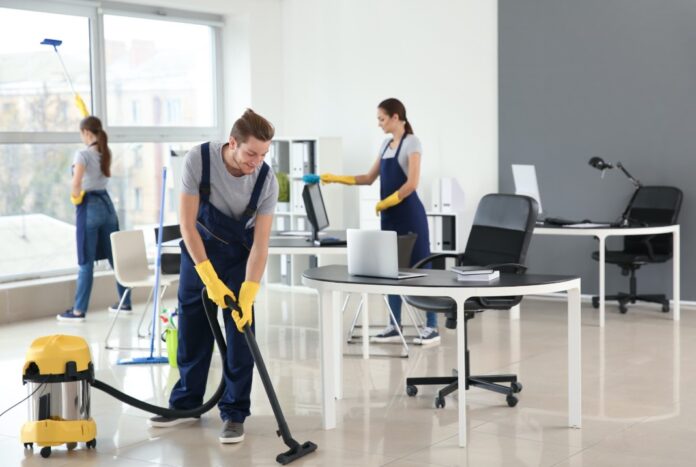 Are you looking to hire cleaner services?
In today's society, the state of building surfaces is more important than ever. As a result, buildings are looking for commercial cleaners to handle their cleaning efforts. Not everyone can handle these cleaning requests, though.
If you are wondering how much it costs to hire cleaners for your business, well, you've come to the right place. Below, we'll discuss the different pricing models in detail, pointing out the pros and cons of each pricing model.
Ready? Let's get straight into it.
Commercial Cleaning Rates per Square Foot
On average, commercial cleaning rates per square foot are calculated based on the size and type of project, as well as the number of hours required for completion.
Smaller projects may cost about $0.08-0.15 per square foot, while larger projects can range from around $0.75-1.15 per square foot. Depending on the complexity of the job, some projects may be more expensive.
For example, vacuuming and mopping of a large office could cost around $0.75-0.85 per square foot, while specialty cleaning in higher-traffic areas may need an extra fee per square foot.
Ultimately, the best way to decide the commercial cleaning rate per square foot is to get quotes from a variety of reputable cleaning services. By gathering many quotes, you can ensure that all costs associated with the project are covered and that the project is completed on time.
Commercial Cleaning Hourly Rates
The most common hourly rates range from $25 to $45 per hour, with some services having a flat rate no matter how long the cleaning process takes. Small office cleaning and retail stores typically pay around $25 an hour, while larger institutions like hospitals and universities can pay anywhere from $35 to $50 an hour.
However, if you want to reduce the costs of your facility maintenance while reducing your cleaning footprint, visit this page for customized cleaning services. This page offers a comprehensive range of services delivered using a wide variety of cleaning equipment.
Prices vary depending on the type of job and the amount of time it will take to complete it, but you can be assured that the services are of top quality. Whether you're looking for a one-off or ongoing service, you will be able to customize your cleaning service to fit your needs and budget.
Factors That Influence the Cost of Hiring Commercial Cleaners
The cost of hiring commercial cleaners can vary greatly depending on many different factors. These include the following:
Size of the Cleaning Area
The size of the cleaning area is a huge factor that influences the cost of hiring cleaners. In essence, bigger areas must have more staff, more time, and more resources. Generally, the larger the cleaning area, the higher the cost.
For example, a large warehouse or office building may must more equipment and staff to properly cover the space and give optimal results. On the other hand, a small office might only have one or two staff members and minimal resources.
Complexity of the Job
Complexity involves different tasks such as carpet cleaning, upholstery cleaning, window cleaning, and more, which can take more time and must require specific equipment.
Moreover, if the job includes removing old furniture or cleaning old saturated carpets, then it is more complex and may cost more.
Frequency of Cleaning
The more frequent the cleaning needed, the higher the cost of the service. This is due to the increased number of visits needed and the increased amount of cleaning that needs to be done to keep the business premises clean.
For example, if a business premises only needs cleaning once a month, the service will be much less expensive than if it needs cleaning every week or even more often. Additionally, if the premises are unusually dirty or have special cleaning needs, these needs can increase the cost of the service.
Types of Cleaning Materials Used
Different cleaning products and materials are needed for different surfaces, and can decide how often cleaners need to iterate over these surfaces. Generally, commercial cleaners use cleaning agents that contain both synthetic and natural substances, such as soaps, detergents, and disinfectants.
Low-grade materials may be cheaper in the short term. However, they may not give the desired results, and the potential savings could be offset by having to repeat the cleaning process several times until it is satisfactory.
Quality cleaning supplies are essential for a quality job and often give better and longer-lasting results. Higher-grade cleaning materials may have a greater first cost; however, using them strategically may result in long-term savings in labor costs. Additionally, higher-grade cleaning materials are typically safer for the environment.
Level of Experience and Qualifications of the Cleaners
Companies need to consider the quality of their employees for their business to run smoothly. Experienced and qualified cleaners have the right knowledge and skills to deliver quality services to their clients. They know how to handle delicate and high-traffic areas and are also capable of using the right products to complete the job.
Furthermore, they are able to do their duties efficiently and can tackle difficult jobs. With their extensive knowledge and experience, they are able to give the best value to their customers.
Companies must bear in mind that if they want to complete the job in the most effective way, they need well-trained cleaners. Although the cost of hiring qualified cleaners may be higher, it can help them save time, money, and inconvenience in the long run.
All You Need to Know About Commercial Cleaners Rates
Hiring commercial cleaners is a great way to keep your business environment in top shape. With a variety of services available, commercial cleaning companies can make it easy to keep your business clean and free of dirt, debris, and bacteria.
The cost will depend on the size of the facilities, the type of services needed, and of course, the company you choose.
For a correct estimate, it's best to ask for quotes from many companies. Don't wait around – make sure your business is receiving the best commercial cleaning services today!
Did you find this article helpful? Check out the rest of our blogs for more!