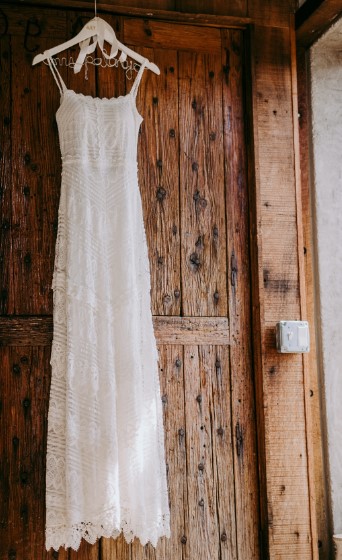 If a wedding dress is one of your wedding gifts, you will want to take care of it properly so that you can preserve its condition. If you have purchased a wedding dress, you will want to keep it in good condition so that you can pass it down to a daughter or other family member later on.
Wedding dress cleaning is something that nearly every bride and Mrs. will want to know how to do.
Read on to learn how to clean a wedding dress before and after the wedding and save it for generations to come.
How to Clean a Wedding Dress
Wedding dresses are beautiful and intricate, often made with delicate fabric and detailed beading. Because of this, it is essential to take special care when cleaning a wedding dress.
If your wedding dress is made of delicate fabric like silk, chiffon, or lace, you will need to take it to a professional for cleaning. But, if it is made of a tougher fabric like polyester, you can attempt to clean it at home.
If you're planning to clean the dress by yourself, here are several steps involved in how to clean a wedding dress at home.
First, you will need to remove the dress from the hangar and lay it down on a flat surface. Second, you will need to identify the type of fabric your dress is made of and consult the care label for further instructions.
Third, you will need to gather the necessary cleaning supplies, which may include a delicate detergent, a hanger, and a garment bag.
Fourth, you will need to fill a sink or tub with lukewarm water and delicately hand-wash the dress. Fifth, you will need to hang the dress to dry in a cool, shaded area.
Sixth, you will need to press the dress once it is completely dry. Finally, you will need to rehang the dress in a garment bag until it is ready to be worn again.
Common Mistakes to Avoid
Avoiding mistakes when it comes to cleaning a wedding dress can help keep your gown looking beautiful for years to come. Here are the most common mistakes to avoid:
Don't try to clean a stain that's already set in.
Don't use harsh chemicals or detergents on delicate fabrics.
Do not wash your dress in hot water.
Don't soak the dress in water for too long.
Don't scrub the dress too harshly.
Don't put the dress in the dryer.
How to Store Your Dress After Cleaning
The most important thing to remember when storing your wedding dress after cleaning is to keep it in a cool, dry place. A garment bag is also a good idea to keep your dress looking its best.
When folding your dress, be sure to avoid creases and wrinkles. You may also want to wrap your dress in acid-free tissue paper to keep it from yellowing over time.
If you want to learn more about wedding dresses, consider doing some local wedding dress shopping to ask professionals.
Follow These Wedding Dress Cleaning Tips
It is important to carefully clean your wedding dress so that it can be preserved and stored. This will ensure that it stays in good condition and can be used again in the future. Follow the steps above to clean your dress properly, and you'll have your wedding dress looking like new in no time!
If this article about how to clean a wedding dress was interesting to you, consider checking out our other articles today for more relevant information.