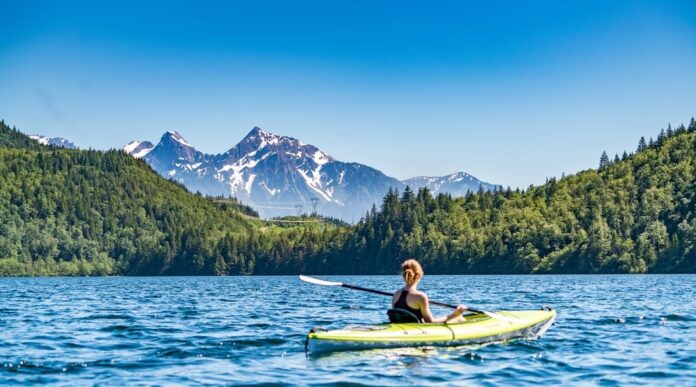 Are you an adventure seeker looking for a thrilling and unique experience? Look no further than some of the most breathtaking natural wonders and best places to go kayaking in the United States.

From glaciers to lakes, there are endless possibilities for kayaking enthusiasts. Get ready to paddle your way through seven amazing places that offer exquisite views and unforgettable experiences.
So grab your kayak, pack your gear, and let's explore the marvels of nature together!
Read on!
1. Glacier Bay National Park, Alaska
Glacier Bay National Park in Alaska is one of the most scenic and pristine kayaking destinations in the United States. The park boasts of:
towering glaciers
icebergs
rugged mountains
They also have abundant wildlife such as:
whales
porpoises
sea lions
Kayakers can paddle through calm waters surrounded by massive walls of ice that rise hundreds of feet above the waterline. When kayaking near these mammoth structures, you might hear rumbling sounds or witness calving events. This is where pieces of ice break off from the glacier into the water below.
2. Lake Tahoe, California
Lake Tahoe, located on the border of California and Nevada, is a popular destination for kayaking enthusiasts. The crystal clear water surrounded by towering mountains creates a stunning backdrop for paddling.

There are many different areas around the lake to explore by kayak. Emerald Bay State Park is one of the must-visit kayaking spots. It offers a picturesque cove and stunning views of Fannette Island. The Sand Harbor Beach offers calm waters perfect for beginners.

For those seeking adventure, Meeks Bay provides access to some challenging rapids that will test your skills. Don't forget to keep an eye out for wildlife. This includes bald eagles soaring overhead or fish swimming beneath you in the pristine waters.
3. Everglades National Park, Florida
Everglades National Park in Florida has acres of swamplands, marshes, and wetlands; it's a nature lover's paradise. Paddling through the park, you'll see an abundance of wildlife including:
alligators
manatees
over 350 species of birds
The park offers various kayak trails that range from leisurely paddles to more challenging routes for experienced kayakers. One of the most popular trails is the Nine Mile Pond Trail. It takes you through mangrove tunnels and open ponds. This is where you can spot wading birds like herons and egrets.
Another favorite is Hell's Bay Trail.

It offers stunning views of sawgrass prairies while also providing opportunities to see crocodiles basking on logs.
4. Salt River, Arizona
The Salt River in Arizona is a popular kayaking destination due to its scenic beauty, abundant wildlife, and challenging rapids. The river flows through the Tonto National Forest, providing kayakers with stunning views of the rugged landscape.

The upper section of the Salt River offers Class III-IV rapids that are perfect for experienced kayakers looking for an adrenaline rush. These rapids provide an exciting challenge as you navigate through steep drops and rocky chutes.

For those who prefer a more leisurely experience, the lower section of the Salt River offers calm waters suitable for beginners or families with children. Here, you can enjoy a relaxing paddle while taking in the breathtaking scenery around you.

Salt River kayaking
also provides opportunities to spot various species of birds such as bald eagles, ospreys, and herons. You may even have a chance encounter with wild horses that roam freely along the riverbanks.
5. Apostle Islands National Lakeshore, Wisconsin
Apostle Islands National Lakeshore is a kayaker's paradise located on the southern shore of Lake Superior. The park consists of 21 islands and over 12 miles of mainland, providing ample opportunities for exploration.

The sea caves are one of the main attractions at Apostle Islands. These natural wonders are formed by wave action eroding the sandstone cliffs along the shoreline, creating intricate passages and archways that can only be accessed by kayak.

One popular route for kayakers is to paddle from Meyers Beach to Sand Island. This four-mile journey takes you through some of the most stunning scenery in the park, including towering sandstone cliffs and crystal-clear waters.

Another must-see attraction is Devil's Island, which features a historic lighthouse that has been guiding ships since 1891.

Paddling around this island offers spectacular views of both the lighthouse and surrounding rock formations.
6. San Juan Islands, Washington
The San Juan Islands in Washington State are a must-visit destination for any kayaking enthusiast. With over 450 islands and rocks, the stunning scenery will leave you in awe.

The archipelago offers calm waters perfect for beginners as well as more challenging routes for experienced kayakers. You can paddle through kelp forests, watch seals basking on rocks, and even spot orcas swimming nearby.

Lopez Island is a popular starting point with its sandy beaches and calm bay. From there, you can explore other islands such as San Juan Island where you can visit Lime Kiln Point State Park to see whales from shore.

Roche Harbor is another great stop where you can refuel and grab some food before continuing your adventure. No matter which route you choose to take; the San Juan Islands offer an unforgettable kayaking experience that shouldn't be missed.

7. Lake Powell, Arizona
Lake Powell, Arizona/Utah stands out as one of the best places to go kayaking in America. This stunning lake offers over 1,900 miles of shoreline and crystal-clear water that reflects towering red rock formations. Kayakers can enjoy exploring hidden coves, canyons, and beaches along the lake's many tributaries.

Whether you're a seasoned paddler or just starting on your kayaking journey, Lake Powell has something for everyone. There are guided tours available if you're not confident enough to go it alone. You'll be able to see some breathtaking scenery such as Rainbow Bridge National Monument – one of the world's largest natural bridges.
Explore Amazing Places to Go Kayaking in the US
Kayaking is a great way to explore the beauty and serenity of nature. The United States is blessed with numerous amazing places for kayaking, each offering its own unique experience.

From the icy waters of Glacier Bay National Park in Alaska to the warm waters of Everglades National Park in Florida, there's something for everyone. These seven amazing places to go kayaking in the US represent only a small fraction of what this beautiful country has to offer when it comes to kayaking opportunities.
No matter where you live or where you travel next time around America, be sure that there's an idyllic spot nearby where you can embrace nature at its finest while experiencing firsthand how wonderful life really is!
Explore our blog for more reads.