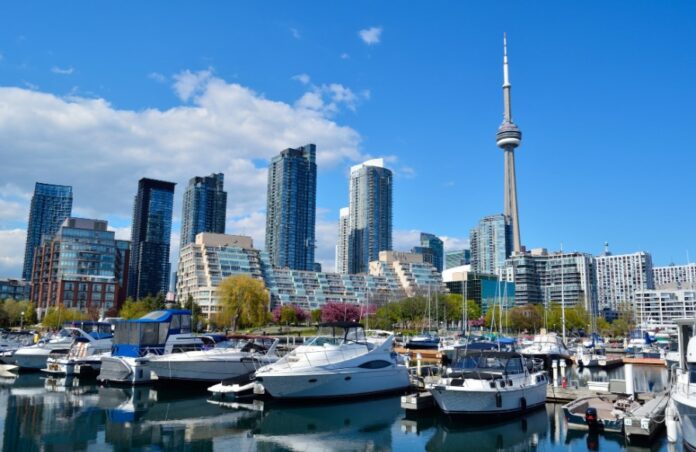 If you're looking for some fun things to do in Toronto this weekend, look no further! From iconic landmarks to delicious food, Toronto is bursting with activities to keep you entertained.
Whether you're looking for a thrilling adventure or a leisurely night out on the town, there's something to suit everybody's tastes. Ready to start exploring? Let's go!
1. Explore Toronto's Revitalized Waterfront
Toronto's revitalized waterfront is an amazing place to explore and discover. With something for everyone, visitors can check out the Toronto Music Garden, a unique outdoor performance space dedicated to classical music.
The Queen's Quay Terminal is a lively spot to find shops, restaurants, and galleries all in one convenient location. There are plenty of exciting activities to choose from, such as kayaking and paddle boating. You can also take a leisurely stroll along the water to take in the stunning views or take a tour of the Harbor Front Centre and its outdoor sculpture garden.
For a truly unique experience, take a ferry ride around the harbor for a chance to see the city from a different angle. No matter what time of year, Toronto's waterfront offers plenty of fun things to explore and enjoy.
2. Taste Your Way Through Toronto's Diverse Cuisine Scene
Toronto boasts a vibrant and diverse culinary scene that is simply perfect for a foodie wishing to taste their way around the city. Head to the bustling Kensington Market for a trip to Chinatown or sample exotic dishes from the many Greek and Italian restaurants.
Take a bite into a classic Canadian dish at St. Lawrence Market, or check out Yorkville's selection of fine-dining establishments. Visit Toronto's restaurant row on King Street and explore the variety of independent restaurants in Little India.
Take culinary classes at the world-renowned Chinese Culinary Centre, or go on a food tour and learn the stories behind some of the city's most famous restaurants. There's something truly special about delving into Toronto's culinary culture and experiencing its vast array of flavors and cuisines.
3. See Some of the City's Best Street Art
Toronto is one of the best places in Canada for street art. Visitors can explore Dundas Street West and explore outstanding murals, graffiti, and pieces of art that are unique to the city and to the country. St. Clair and College are some of the neighborhoods to visit when exploring street art and graffiti.
A few of the most popular spots include Underpass Park, Graffiti Alley, and Wychwood Barns. Underpass Park has an amazing collection of large-scale art murals and sculptures perfect for pictures. Graffiti Alley is the spot for a more traditional type of street art, filled with graffiti tags, pieces, and wheat pastes.
4. Uncover Toronto's Underground Music Scene
Uncovering Toronto's underground music scene is a fun and unique way to explore the city. Head to The Annex and Kensington Market for a wide selection of vintage and independent record stores.
The city offers a wide variety of live music venues to explore and enjoy, from the cozy Cameron House to The Garrison, where the DJs spin a mix of classical and modern music. Local music festivals such as NXNE, CMW, and Canadian Music Week are all great ways to discover new acts from both emerging and established performers alike.
If you're feeling adventurous, take a trip to some of the city's classic dive bars. These kinds of venues often host some of the most exciting and energetic shows, featuring some of the city's best up-and-coming musicians.
5. Discover Toronto's World-Class Theatres
Toronto has some of the world's best theatre performances. From the classic theatres to modern and innovative productions, the city has something for everyone. From the historic Royal Alexandra Theatre to the majestic Elgin & Winter Garden Theatres, Toronto offers a wide variety of theatrical experiences to explore.
Additionally, Mirvish Productions present a wonderful selection of plays and musicals from world-renowned creators. Venues like the Young Centre for the Performing Arts and the Princess of Wales Theatre present some of the best theatrical performances from leading artists. The best part about theatre in Toronto is that there is something for everyone – from comedies to musicals to dramas.
There is also a variety of entertainment for each and everyone, including sports. With so many great theatrical experiences to be enjoyed in Toronto, it is hard to know what to explore first.
6. Explore Toronto's Green Spaces
Exploring Toronto's green spaces is a great way to enjoy the city and experience all it has to offer. From the High Park Hiking Trail to Bluffer's Park Beach Walk, there are tons of outdoor activities to be had.
If you are looking for something a bit more adrenaline-pumping, consider biking along the Toronto Waterfront Trail or going kayaking on Lake Ontario. The Don Valley Brickworks offer outdoor education programs and activities, perfect for nature lovers.
For the adventurous types, take to the skies with a thrilling helicopter ride or take a ziplining tour. Glide along the city skyline with a Toronto Island Airport Flyover or join the numerous street festivals.
Whether you are an outdoor enthusiast or looking for something more leisurely, there are plenty of fun things to do for your Toronto vacation
7. Watch a Toronto Raptor Home Game
Getting Raptors tickets on sale and watching the home game is one of the most fun things to do in Toronto. Located at the Scotiabank Arena, the atmosphere is electric, and there is nothing like cheering on Canada's beloved home basketball team.
Besides watching the game, there are tons of other attractions and things to do in the Arena. Before the game, take pictures with the championship banner, grab dinner and drinks at one of the concession stands, take an interactive selfie with Drake, or do some shopping at the Raptors Store.
During the game, join in the fan chants and sing along to the best Raptors song. Don't forget to head down to the courtside and be a part of the Jurassic Park Toronto experience.
Exploring the Many Fun Things to Do in Toronto
Toronto has plenty of unique and exciting activities to enjoy – from the vibrant nightlife to the exciting museums. Take this opportunity to explore the city and participate in all that it has to offer.
Make sure to plan your trip so you don't miss out on any of the fun things to do in Toronto!
If you want to explore the best topics, we've got you covered. Check out some of our other blogs today!