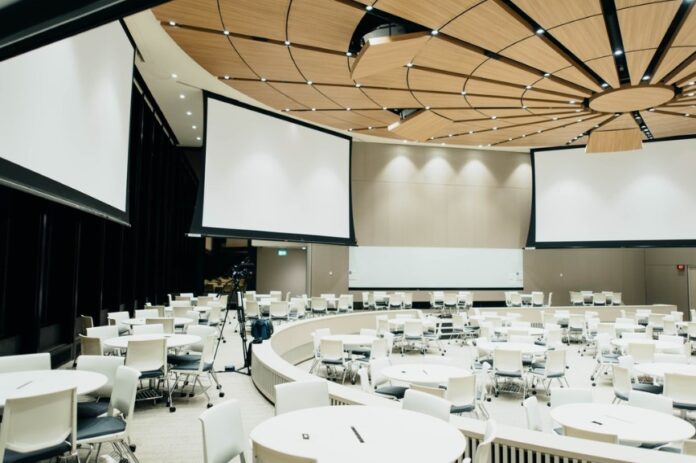 Did you know that the market size of party events and planning in the US reached $5.6 Billion this 2023? Event planning is a large, revenue-based industry that includes conferences or smaller revenue-based events such as corporate events. The key to successfully hosting corporate events is finding the perfect venue.
Find out what you should consider when searching for a venue for your corporate event in our guide!
Determine Your Event Scope and Needs
Finding the perfect party venue for your business event starts with determining your event scope and needs. Start by brainstorming what type of event you're having, what the purpose is, and who your target audience is. Consider factors such as the type of activities you plan to include.
Make a basic checklist that covers the needs of your event. Start early and research potential venues to ensure you have plenty of time to make your decision. Additionally, the venue should be able to accommodate different activities, whether that be a conference, leadership retreat, business lunches, or team morale boost.
Check the Location and Accessibility
When searching for the perfect corporate event venue, it is important to consider the location and accessibility. Consider the demographics of guests invited and ensure the location is accessible for all. If traveling from afar, consider proximity to major transportation hubs and whether there is adequate parking.
Additionally, check to ensure the venue does not require guests to climb flights of stairs, as this could limit access for those in wheelchairs or with limited mobility. Research the area to check for any potential noise restrictions, as venues near expressways or flight paths may have specific regulations when it comes to noise control.
Ensure the venue is safe and secure, and if necessary, ask for proof of liability insurance.
Consider Venue Capacity and Layout Options
When planning a corporate event, it is important to consider venue capacity and layout options. Typically, the venue should be able to accommodate all guests comfortably, so it is important to consider the number of attendees and the space needs. A good rule of thumb is to choose a venue that is slightly larger than your estimated guest count, as unexpected attendees may show up.
It is also important to consider layout options. Seating and tables should be arranged so that sightlines are open and everyone in the room can see presentation materials. Finally, when choosing a venue, ask the venue manager to share their event policies, rules, and restrictions.
Research Amenities and Special Features
Research amenities and special features should be key factor in finding the perfect venue for your corporate event. Does the venue have enough amenities to cater to the needs of your guests? Are there enough food, beverage, and service options to please your guests during the event?
Checking out the audio-visual components of a venue can also be helpful. Does the venue have a built-in audio-visual system? Are there any special features such as a stage, dance floor, or additional lighting?
Knowing the special features ahead of time can help you plan your event better and make sure your guests have an enjoyable experience. Additionally, you should also check to see if the venue offers other customizable amenities such as chairs, tables, decorations, and seating arrangements. Researching amenities and special features will ensure that your corporate event is held in the right venue.
Gauge Costs
One of the most important factors to consider when choosing a venue is cost. Gauging costs makes it easy to search for venues that fall within your budget. All you have to do is enter your budget and criteria, and it will serve up a list of venues that meet your specifications.
Don't forget to ask about venue taxes and fees as well as discounts and special packages.
Read Reviews
When selecting a venue for your corporate event, reading reviews from past customers can be a helpful barometer. Opt for venues with positive reviews from both corporate and private events, as such reviews provide insights into the quality of the event space, catering services, and additional amenities.
Make sure to also read reviews from other guests and vendors, as these can give a good idea of how the venue staff is able to accommodate various needs.
Ask for references from each venue, and call them to get their honest opinion. Also, check up on the reviews from online websites, as past guests may have complained about noise levels or other concerns. No matter how attractive a venue may seem, reviews should be taken into consideration before making your decision.
Get Recommendations
When searching for the perfect venue for your company event, getting recommendations from colleagues is an invaluable resource. Ask business associates and colleagues for ideas that have worked for their companies. They might suggest a particular venue that was great for their event and includes details such as how helpful or efficient the staff was and whether the facilities were up to par.
Word-of-mouth is probably the most reliable source of information, especially when it comes to finding the perfect venue. Additionally, use existing professional relationships and contacts to scout out and learn more about possible venues. This can be an effective way to narrow down your options and guarantee that you find one which matches your needs.
Finding The Perfect Venue for A Corporate Event
When it comes to finding the perfect venue for your corporate event, the key is to weigh your options carefully. Look for versatility, ask questions to the host, and make sure all your necessary amenities are available. With the right knowledge and due diligence, you'll be sure to find the perfect venue for your event.
Check out our website for more on business to get you started.