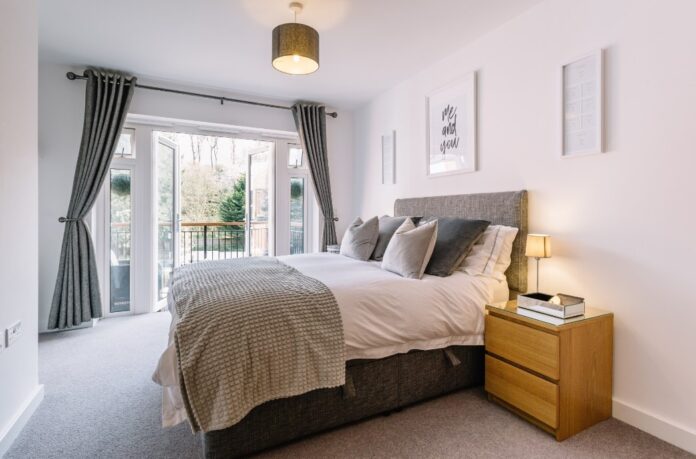 Are you hoping to spice up your bedroom with a new design?
The bedroom is one of the most important places in your home. It's where you reset after a long day of work. It's where you catch up on your rest, recuperate from an illness, or recharge to go back at it the next day.
To learn more about bedroom interior design ideas that are going to bring your space to the next level, just keep on reading.
1. Colorful Accents
Colorful accents such as bright duvet covers, pillows, and paintings help to create a unique and dressy feel while also introducing bold and vibrant energy to the bedroom. When adding colorful accents to the bedroom, it is important to consider the base colors of the bedroom already.
If a bedroom makeover has pale blue walls, for example, look to introduce light or dark navy accents or perhaps calming textures and patterns in shades of gold. Choosing the right accent color can provide a finished look within the bedroom and bring cohesion to the surrounding design.
2. Going Monochromatic
Start by choosing one color that appeals to you and painting the walls. Then, work on curating pieces and accessories in the same hue. For example, focus on gray and add a gray upholstered headboard, light gray bedding, and white sheets.
Alternatively, a black-and-white scheme could be achieved with a white and black wallpaper accent wall, black curtains, and white bedding and throw pillows. To complete the look, add furniture pieces and wall art in the same or similar hues.
3. Maximizing Space
Utilizing a handcrafted solid wood dresser with a low profile footprint will help draw attention away from the overall size of the room. Opting for dual-function furniture that serves both as a place to store items as well as an attractive accent piece will add visual interest while using minimal space.
Choose light-colored wall treatments and curtains that help make the room appear larger than it is. Go for multifunctional accessories such as shelves, cubes, and bins that can accommodate many items without taking up a lot of space.
4. Lighting Up the Room
Bedroom interior design ideas for lighting up the room can add a calming atmosphere, enhance relaxation, and provide the right amount of light for activities. Soft ambient lighting helps to create a feeling of serenity, and support with hidden LED lights, can bring a touch of magic to the bedroom.
You can add a modern contemporary feel or rustic warmth with designer lighting pieces or dramatic hanging pendants. Place wall sconces beside the bed to create a tranquil mood and nightlights to provide soft illumination.
5. A Touch of Luxury
Start with a good quality mattress and modern, stylish bed frame, then go for quality bedding, a few elegant decorative pieces, such as prints or wall art, a dressed side table, and a sophisticated headboard.
Good lighting is essential for a relaxing atmosphere – opt for a dimmer switch and warm, low lighting. If there is enough space, you can add a chair or a chaise lounge to indulge in. Think of soft colors like creams, blues, and greens to bring a dreamy, relaxed vibe to your bedroom.
Transform Bedroom Interior Design Ideas
Bedroom interior design ideas can make all the difference in transforming a bedroom. From paint colors to layouts, there are countless ways to turn an old or plain room into something beautiful—and personal.
Choose colors, pieces, and textures that will make the room comfortable, cozy, and stylish.
Did you find this article informative? Check out the rest of our blog for more!