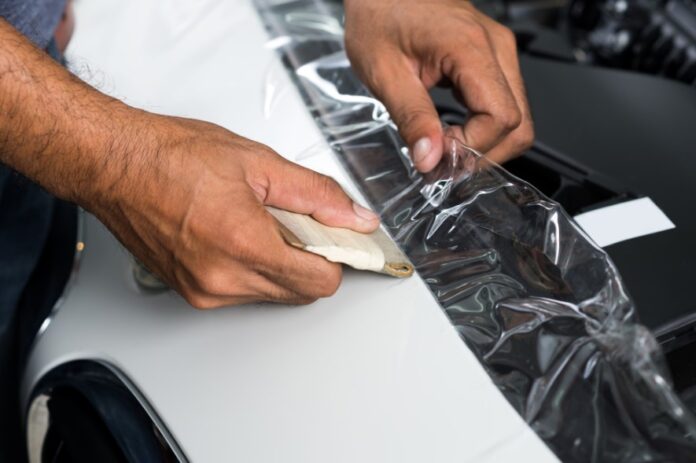 Did you know that there are 1.446 billion cars in the world?
Are you a new car owner looking to keep your ride safe from exterior and interior damage? If so, then you are in the right place.
Car protection has never been easier to approach. Tips, tricks, and guidelines can help you maintain optimal car health. Keep reading to learn about car protection and how to implement these practices into your daily routine.
Using Car Paint Protection Film
Car paint protection film is an excellent way to protect your vehicle from exterior elements such as snow, water, and road salt. You should follow specific tips to protect your car.
You should regularly wash the car to prevent dirt and grime from building up and damaging the finish. You should wax the car regularly to preserve the paint's sheen. If waxing is done correctly, the paint protection film will help prevent damage more effectively.
Applying car detailing products such as sealants and ceramic coatings can also help prolong the life of your vehicle's paint. Lastly, have a professional install the paint protection film to ensure a quality result. Following these tips can help protect your car and maintain its value.
Tire Alignment
One of the essential tips is to ensure your tires are aligned correctly. Having your tires aligned helps ensure your vehicle drives in a straight line and helps reduce premature tire wear.
Proper alignment also helps improve your brakes and suspension response time. It increases fuel efficiency and reduces driver discomfort.
Aligning your tires is a small step to help your car last for years. If you notice your vehicle constantly pulling to the left or right, it may be time to align your tires.
It is also essential to check your tire pressure and rotate your tires at the recommended intervals to maximize their life and further protect your vehicle.
Cleaning Interior Surfaces And Upholstery
A critical tip for a car protection guide is regularly cleaning and maintaining interior train surfaces and upholstery. Dust and dirt can degrade the fabric and textures, making the car look worn and neglected.
To protect the car's interior, vacuum the upholstery and carpets using an upholstery attachment to ensure you remove dirt from all the nooks and crannies. Vacuuming alone can't permanently remove all the earth, so use a brush or cloth to agitate areas before cleaning.
To keep the car upholstery looking new, use mild cleaning solutions made for fabric car upholstery and follow the manufacturer's instructions. Avoid harsh detergents that break down the fabric and cause fading or discoloration.
After cleaning, use a protectant to shield against dirt and stains. If there's a stain, treat it immediately, as it sets over time and can be tough to remove.
Preparing Against the Elements
When preparing your car against the elements, your first step should be winterizing it. This includes checking the tires, brakes, oil, and battery.
In addition to ensuring your car is up-to-date on maintenance, you should also ensure the exterior is protected from snow and ice by adding an extra layer of wax. Take the time to scrape off excess snow and ice built up on the car itself.
Ensure you have enough windshield washer fluid and antifreeze to last the entire season. These tips are essential to remember when protecting your car against the elements and ensuring it is prepared for the winter.
Use Car Cover
It is essential to use a car cover for proper car protection. To ensure the car cover provides adequate protection, consider getting weatherproof, waterproof, and breathable options. This will help protect the car from extreme heat or cold, UV rays, moisture, and dust.
You should ensure that the car's body is of good quality. It should have reinforced seams to prevent tearing and high-level elastic for a snug fit and better security. Additionally, look for a cover designed to fit your car precisely or adjustable for custom sizing.
Car Insurance
Car insurance is essential in case of damages and theft. Ensure to secure your car at all times, both when driving and when stationary.
Park in busy, well-lit areas and keep windows rolled up when you leave your car. Avoid leaving visible items or valuables in the car. Install a car alarm to protect your vehicle against theft and tampering.
When taking a car, ensure you are familiar with the route and take the necessary precautions when driving. Check the brakes, steering, and other vehicle operating systems quarterly and have the vehicle serviced regularly. Having a comprehensive car insurance plan that covers any damage to your vehicle is essential.
Right Vehicle Warranty
Having a good vehicle warranty is essential for car protection. It also helps to safeguard your finances.
Find out whether you qualify for a third-party vehicle warranty. Different companies offer contracts to other drivers. Make sure you find the right one for you.
Understand the coverage the warranty provides. If the warranty does not cover what you need it for, then you should look for another option.
Ask about expiration dates and specific terms. Make sure you read the fine print and ask any questions.
Be sure to keep all paperwork regarding your motor vehicle warranty up-to-date and in a safe place. Following these simple steps ensures your car is protected with the proper motor vehicle warranty.
Using The Right Ideas For Car Protection
Car protection is essential to maintaining your vehicle's value and preventing costly repairs. Regular maintenance, thorough window shield washing, waxing occasionally, auto detailing, parking in well-lit areas, and utilizing a car cover can all do wonders for car protection.
By taking these tips into account and being proactive regarding car care, you can ensure your car is in tip-top shape.
Want to learn more? Look at the rest of our site to discover how we can help.