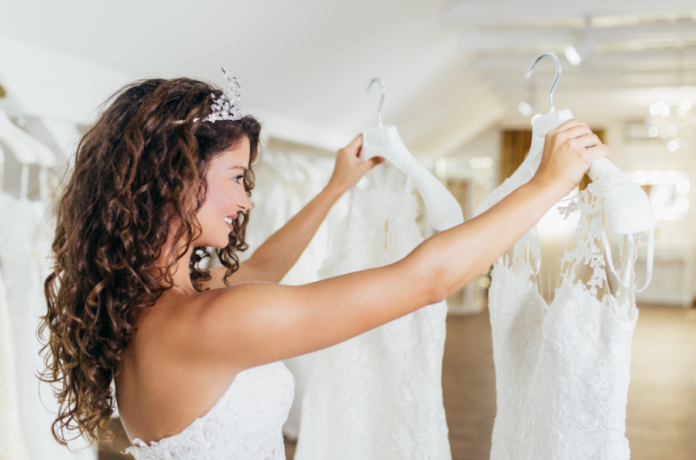 Is this the right wedding dress? It can be hard to decide.
Choosing a wedding dress is a very exciting process. And with the variety of styles available, you can be sure there's something perfect for you. Knowing how to choose a wedding dress can be daunting, so we're here to help.
Below is a short and easy guide to the different types of wedding dress styles to help you pick the right style for you. Let's begin!
The Classic Ball Gown
The classic ball gown wedding dress is a timeless, stunning piece. Characterized by a full, voluminous silhouette and a fitted bodice, it is a perfect choice for brides who want to add a touch of drama to their big day.
The skirt is often made of luxurious fabrics such as satin or taffeta. It is the gown's focal point and will make the bride stand out as she flourishes down the aisle.
Additionally, it is accentuated with lace, beading, and sumptuous embroidery. The classic ball gown adds a touch of elegance to the bride's special day. The wide skirts also offer plenty of room to accessorize, with the bonus of being able to hide the bride's midsection if desired.
Whether the bride is dreaming of the fairytale princess look or a modern-day Cinderella, the classic ball gown silhouette fits the occasion perfectly.
Modern Mermaid Style Silhouette
Modern mermaid-style wedding dress silhouettes flatter the body for an elegant and glamorous look. These silhouettes come in many styles and fabrics, from soft satin to lace and tulle.
There are also various colors and cuts available to create a more unique bridal look. Additionally, an empire waist accentuates the bust while the skirt flares out and hugs the figure to create a mermaid style.
A well-fitted bodice with a strapless or sweetheart neckline enhances the body shape and looks like a touch of romance. Additionally, the embellishment features on the bodice of the gown can make all the difference.
Moreover, the added beading, sequins, and pearls can create a more magnificent look. Finished with a chapel-length or longer train, the bride is sure to be the star of the show.
Sheath Gown
Sheath gown wedding dresses are a timeless and classic style that has been around for centuries. This simple, yet chic silhouette features a form-fitting bodice and a smooth skirt falling to a midi, tea, or full-length hemline.
Sheath gowns can play the perfect backdrop to highlight a dramatic necklace or belt. They are often layered with lace, tulle, sequins, or beads for an extra wow factor.
In addition, this dress style ranges from ivory neoprene to silky pastel textures, making it ideal for many seasonal weddings. Whether a bride chooses a modern a-line or a deep plunging neckline, a sheath gown gives the silhouette a sleek and romantic feel.
A-Line Gown
A-line wedding dresses have been a popular choice for decades due to their timeless design. This style is typically fitted through the bust and waist and then flares out elegantly at the hips.
The fabric and detailing of an a-line gown will depend on the individual's taste, budget, and style. There are also common choices that range from beaded, lace, or embroidered fabric.
Moreover, these gowns can be worn during formal weddings, but are also suitable for those who are looking for a more relaxed look. Whether you are looking for something traditional or modern, this wedding dress is the perfect choice to make your special day a memorable one.
Empire-Waist Gowns
The classic empire waist wedding gown has stood the test of time. These flattering dresses are timeless and figure-flattering for all body types. The high waistline and full skirt of an empire dress accentuate the bust and lengthens the torso.
Brides seeking a romantic look will love the regal style of an empire waist wedding gown. Made of fabrics like silk, chiffon, and lace, these are perfect for any wedding venue.
Traditionally, they come in white or ivory and could be further embellished with beaded appliqué and lace. Ultimately, it looks great with any veil or headpiece which will make a lasting impression on your wedding day.
Trumpet Gowns
The design of the trumpet gown gives a slim, hourglass look to the bride and has a distinctively regal air to it. Brides looking for something more distinct and stylish than traditional dresses, find this gown to be perfect.
The tight waistline gives these dresses a figure-flattering look, while the playful flare adds a hint of sophistication. These gowns are great for creating a striking look your guests will love.
Furthermore, the trumpet silhouette is perfect for showcasing any veil of choice. With a trumpet gown, any bride is sure to make heads turn on her wedding day.
Flowy and Bohemian Styles
These dresses feature an airy and enchanting look that is both romantic and vintage-inspired. The silhouette is usually loose and flowing, with details like ruffles, loose sleeves, and chiffon.
Bohemian dresses often have intricate and romantic lace designs, while Flowy ones are more simple and elegant. The available vibrant colors can bring a boho bride-to-be's dress to life.
Many Flowy and Bohemian dresses also have off-the-shoulder necklines and plunging deep vs that highlight the bride's figure. Most importantly, these dresses are lightweight and are perfect for hot summer days.
Lace Dress
Lace is a timeless romantic fabric that evokes a nostalgic beauty. It is often a popular choice for wedding gowns due to its ability to be both formal and whimsical.
Additionally, it is extremely versatile and can be featured in a full-length gown, a cocktail dress, or even a short dress for a more informal ceremony. Lace textures vary from delicate floral patterns to bolder geometric designs.
It can also be used to create an opulent boho look, a vintage-inspired look, or even a more subtle, romantic look. If you're still undecided, check out the best bridal boutique here to help you make an informed decision in buying a wedding dress.
A Guide to the Different Types of Wedding Dress Styles
Picking the perfect wedding dress should be an enjoyable and stress-free experience. Consider the different types of wedding dress styles, and your design, and have an idea of what silhouettes and necklines you like.
After taking into consideration all of these elements together, you should be able to find the perfect wedding dress for you. Start the process by finding an experienced bridal consultant and sample gowns today!
Did you find this article helpful? Check out the rest of our blog now!