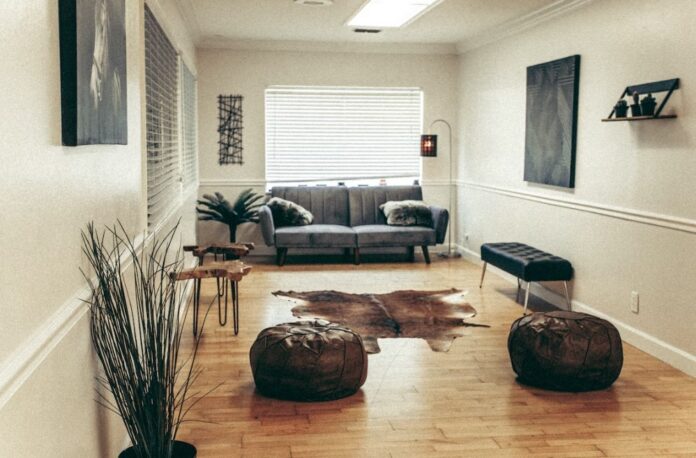 It's very easy for people to want neutral colors throughout their home as this means everything can come together nicely and you shouldn't have the worry of painting a room a bright color, only to hate it later. However, all homes could do with a little color here and there, and there are various ways you can do this without the need to grab a paintbrush.
1. Get a Cool Light Shade
Whether this is for your main light or for a lamp you have in the room, something as simple as getting a colorful light shade can add a splash of color to your living space without it being too much. You can tie this color in with other objects in the room, such as any pictures or paintings you have hanging up, or if you have scatter cushions on the furniture, you could tie the color of the light shade in with the color of the cushions. This tying in of colors is important, as you want it to stand out, but not too much.
2. Scatter Cushions
As previously mentioned, scatter cushions are a great way to add a splash of color to your living space. You don't want to overdo it with the scatter cushions, though, as when your guests enter your home, they want to feel able to sit down, and if there are too many scatter cushions on the sofa or chairs, they're going to feel less able to do this. Just like with the light shade, try to ensure to tie the color of the scatter cushions in with any other color in the room to tie everything together nicely.
3. A Bean Bag Chair
This may sound childish, but a bean bag chair can add both color and character to a room. Not only this, but you can also use it as a piece of furniture and as a place for you and your guests to sit. A bean bag chair doesn't just have to be for one person, as you can get a giant bean bag chair that can fit two or more people on it. This means that, if you're struggling for space for people to sit, a bean bag chair that can fit multiple people on and adds color can solve all your problems.
4. Light Switch Cover
One of the other and less obvious ways for you to add some color to your living space is to place some colorful light switch covers over your light switches. Admittedly, these can sometimes look a little tacky and out of place. However, you can get some light switch covers that look nice and classy, and if you can ensure that all the colors in the room tie in well together, this edition to your room can look nice. Regardless of how you decide to add some color to your home, just remember to tie all the colors together, so that they don't clash and so they match together nicely.