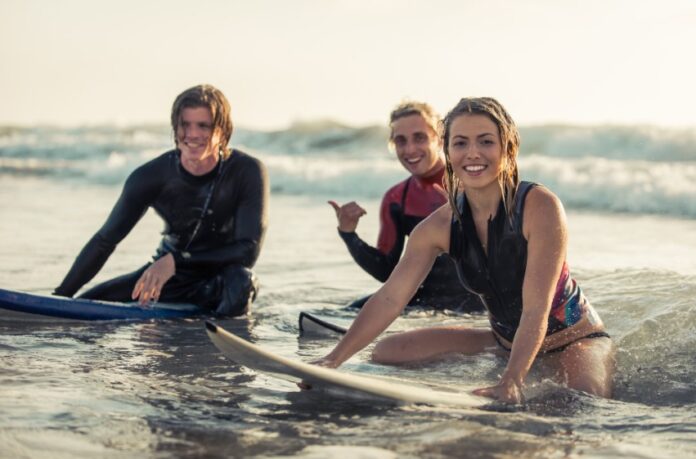 Surfing is a lot of fun! Many are drawn to surfing as this method of exercise is an enjoyable way to spend your time.

Others, however, seem to get in the water with very little idea of how to balance themselves, let alone how to stand up on the board. Surfing can be a little daunting, especially for beginners.
Read on for our must-know surfing tips for beginners if you want to be successfully riding the waves in no time.
1. Choose the Right Board
The right surfboard allows the user to have a smooth and safe ride. A beginner should start by selecting a board that is appropriate to their size, weight, and surfing style. When standing on the board, the user's midsection should be near the middle and the tail should be tucked under the left arm.
The board should also have enough foam and volume to prevent sinking. Beginners should also stick to wider and longer boards with low rails for easy wave catching.
2. Use the Right Outfit
Wearing the right surfing gear while surfing is key to having the best experience. Clothing should be specifically designed for watersports and should not restrict movement.

It should also keep you warm, dry, and protected from the sun's rays.
Neoprene is ideal as it won't absorb water, and it's stretchy, durable, and comfortable. It's also important to consider a wetsuit with the right thickness, as this will provide ample insulation and keep your body temperature regulated while in the water.
A rashguard is another necessary piece of clothing that not only shields you from scratches and unwanted board rash but can also add some protection from the sun's UV rays. You can also find wetsuit jackets for men to add an extra layer of insulation.
3. Learn the Proper Paddling Technique
Paddling is the most important component of wave riding since it's the only way to get onto a wave. It's important to keep your arms straight while using your core muscles to move your upper body and arms in a paddling motion.

When paddling, remember to keep the paddle tip in the water while using your core and back muscles to propel rather than just your arms.
4. Practice Popping Up
To master the basics of surfing, you must be able to effectively pop up from a lying down, or prone paddle position onto your feet on the surfboard. This is known as the popping-up technique.

To practice this, you should start lying flat on the board in the water, arms outstretched for stability.
As the wave passes by, you should grab the board and swiftly pull yourself up with your legs, spinning your feet and arms underneath you. Once your feet are firmly set on the board, your arms should be outstretched and together, palms pressing into the base of the board.
5. Find the Right Waves
It's important to look for a wave that has enough power or speed and size to generate momentum when ridden. When observing the waves it's important to check for features such as shape, size, and position. Beginners need to take the time to identify the right waves so they can learn and progress safely in their surfing endeavors.

Consider These Beginners Surfing Tips
Start small with smaller and progressive waves, single fins, and foam boards. Using these surfing tips and taking precautions are crucial when starting to surf, to ensure your safety. Start surfing today, and watch your waves turn into magical experiences!
For more reads aside from learning to surf, visit our blog.