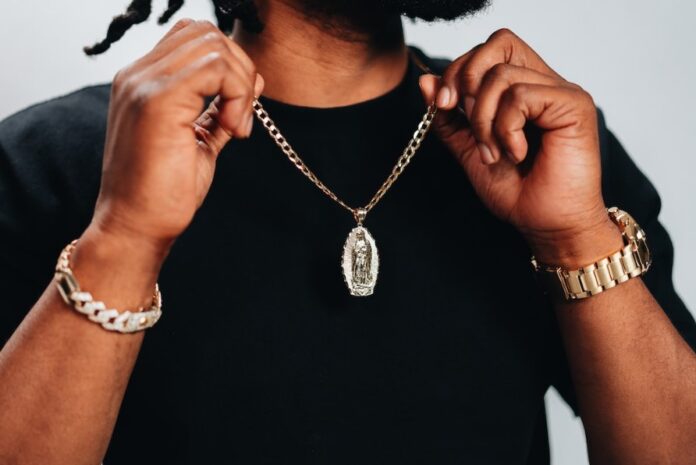 Choosing jewelry sets to wear can be a challenging decision. The wrong pieces can make you look like a costume or outdated, and too much gold is tacky.
Wearing the right pieces in the right way is easy to assemble your style for the day. It separates you from the pack and makes you look amazing.
If you're worried about wearing it fashionably, this guide on jewelry for men will give you advice on how to wear and choose it.
Choose Quality Pieces
When it comes to men's jewelry, selecting high-quality pieces is critical. Quality items will last longer and appear better. Quality pieces express the wearer's personality and can be passed down through generations as valuable antiques.
Quality items have a higher resale value and may make a man appear more professional. When shopping for men's jewelry, knowing what to look for to get the best quality is essential.
The materials used, the craftsmanship, the weight of the piece, and the shine of the stones are all factors to consider. This is the best investment for men looking to upgrade their style and make a timeless statement.
Experiment With Different Styles
Experimenting with different styles is vital to men's fashion, and jewelry is a great place to start. With the right pieces and looks, men can develop a distinct style that does not cause drastic departures from traditional looks.
By combining classic, modern, and statement pieces, men can create a signature look that reflects their personalities. If you want something more modern, consider adding bold details, such as a statement piece like a layered necklace or a daring cufflink set.
Leather, rope, stone, and metal pieces can add the perfect fine details while remaining minimalistic. Men have many options for creating a unique look with the metals' boldness and the stones' originality.
Consider Personal Style
When choosing jewelry, it's essential to consider your personal style. Think about your clothing items and accessories and choose jewelry that complements them.

There are a few things to remember regarding personal style and wearing jewelry for men. The shape of the face and body should be complemented by jewelry.
Color should also be taken into account. Silver jewelry is a timeless classic that can go with almost anything. In contrast, gold or bright colors may be better for adding a pop of color to an outfit.
Scale is also vital because wearing oversized jewelry can appear too flashy. While necklaces and rings are standard accessories, cufflinks, lapel pins, and pendants can add a unique touch to any outfit. You can also learn more about a chain wallet collection for additional options.
Think About Occasion
The occasions for men to wear jewelry are changing as men's fashion evolves. A well-chosen piece of jewelry can be the ideal accessory for a special occasion, such as a wedding, a job interview, or a night out. Classic jewelry styles, such as cuff links, a watch, and a necklace, are still staples for men.
But, there are more opportunities to wear more pieces in modern fashion. Stick to classic, timeless pieces for a formal occasion.

Rings, bracelets, and belt buckles add a distinctive touch to a less formal occasion.

Whether for a special occasion or everyday wear, the jewelry should complement, not overpower, the look.
Wear Jewelry With Confidence
Men must wear jewelry trends confidently. Accessories like a necklace, bracelet, watch, or ring can be used to express one's personality and style.
Men can wear jewelry to stand out and make a statement, or they can wear more subtle pieces that blend in with their outfits. Wearing jewelry can be a great way to express yourself and show off your unique fashion sense.
When wearing jewelry, make sure it complements your body type and style. Choosing the right jewelry can add a touch of sophistication to an outfit and help to improve its overall appearance.
Consider the Fit
Men have worn jewelry for generations, previously considered a feminine accessory. The fit has become the focal point of how jewelry should be tailored to one's physical characteristics. There is now a great emphasis on male jewelry.
Taking a man's occupation, lifestyle, and fashion sense into account, the right pieces of jewelry can make a powerful visual statement. From wristwatches to cufflinks and everything in between, the right jewelry can make a man look sophisticated, stylish, and on-trend.
Coordinate With Clothing
When styling men's jewelry, matching it to their outfits is essential. For example, a gold or silver necklace would be inappropriate if they wore a formal black suit. However, a subtle chain could be a great accessory when wearing a polo shirt or a casual look.
Furthermore, when it comes to styling watches, it all comes down to the style and timing of the occasion. A classic analog watch looks great with a business casual outfit, while a sleek digital watch looks great with all black.
Finally, cufflinks are excellent for adding a touch of sophistication to a suit. Whether it's leather, fabric, or metallic, it's critical to match the colors and materials of the outfit.
Don't Overdo It
Keep the phrase "Don't Overdo It" in mind about men's jewelry. Men should select pieces that complement their outfits and style to achieve a subtle and classic look.
A man can achieve an understated look by limiting the number of pieces of jewelry he wears. This allowed his style to shine without being overshadowed by heavy or excessive jewelry. Instead of choosing bold, large jewelry for daytime wear, they should stick to a few classic pieces.
Empower Your Look with Jewelry for Men
Men should now feel comfortable wearing jewelry in any situation. Don't be afraid to make a bold statement with your accessories! Celebrate your masculinity by trying out different jewelry styles.
Remember to mix and match for an eye-catching look. Try something new and make a lasting impression. Shop now to update your jewelry for men collection!
Do you want to find more helpful info? Check out more of our guides on our blog today!